iconoclast — n
1. a person who attacks established or traditional concepts, principles, laws, etc
2. a destroyer of religious images or sacred objects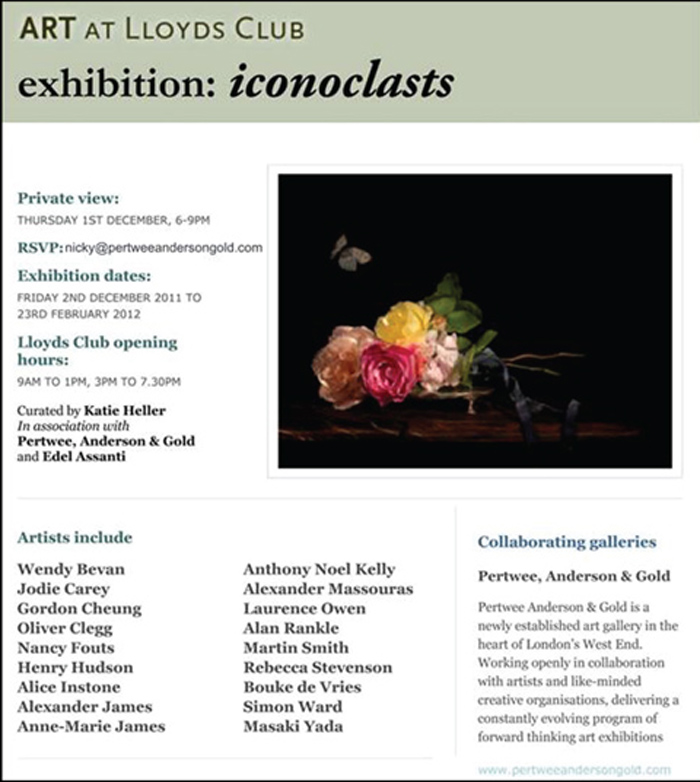 Curator Katie Heller in association with Pertwee Anderson & Gold & Edel Assanti, Iconoclasts explores how artists have often looked to the past to shape the present, either assimilating or reacting against it. In this exhibition are selected a new breed of pre-eminent, contemporary British artists at the forefront of their field, whose work pays tribute to their predecessors whilst at the same time creating something entirely modern. The viewer is forced to see this evolution, to retrieve it from art history and bring it up to date. For the traditionalist this may at times be uncomfortable: for the more forward thinking we are simply breathing new life into the old.

Hosted at the Lloyds Club in Crutched Friars, a quarter of London steeped in history providing the perfect setting for this exhibition. The grade II listed building was built in 1616 by the Ambassador of France and the road Crutched Friars, known at The Canons Regular of the Order of the Holy Cross, dates back to 1210. The club was formed in 1920, originally an establishment frequented by bankers and men of the city. This is the first time that the club is opening up to the public, inviting you to enjoy both the space and the art and if you so wish the food and wine.

And so it is in the heart of London's financial center, as the very fabric of the World's financial order appears to be unravelling, that we challenge the old guard while inviting our audience to question their values and ideals, and perhaps catch a glimpse of a different order.

Artists include Wendy Bevan, Jodie Carey, Gordon Cheung, Oliver Clegg, Nancy Fouts, Henry Hudson, Alice Instone, Alexander James, Anne-Marie James, Anthony Noel Kelly, Alexander Massouras, Laurence Owen, Alan Rankle, Martin Smith, Rebecca Stevenson, Bouke de Vries, Simon Ward and Masaki Yada.

The show is on from the 2nd of December until 23rd February. Visit the Lloyds Club website.